Rentals & Charters
If you're not looking to abandon a landlubber's life just yet, chartering a yacht can turn your next vacation or long weekend into an adventure you'll never forget. Whether it's a leisurely fishing cruise through the Caribbean or a party boat on the French Riviera, the combination of sun, wind, and sea will relax and revitalize you like few other things can.
There are some things to consider as you're making your decisions about where and when to charter a boat. The first is likely going to be sail powered, or motor powered? This is a strictly personal choice but there is one dynamic worth thinking about as you decide. Sailboats are slower than motor powered boats and lend themselves to a more relaxed lifestyle while underway. It's said that sailboats are more about enjoying the journey, while motor powered boats allow you to focus more on the destination.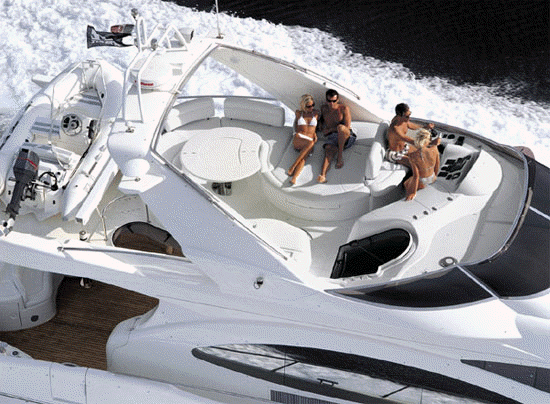 To Crew or Not to Crew?
The next question is going to be, crewed or uncrewed? If you are a longtime sailor with salt in your veins, a "bareboat" might be the right rental for you. A bareboat charter is just the boat, no captain, no crew. You'll have total privacy as long as you're at sea and the independence to go when and where you wish. The vessel does come with all the equipment needed to operate safely, of course, In some national waters you may be required to show at least one International Certificate of Competence, which says you're qualified to operate a seagoing vessel safely. It is no longer possible simply to sign a contract stating that you are experienced and knowledgeable enough to skipper the boat, so be sure you've got the paperwork in order before you choose this option.
If that seems like more responsibility than you want to assume for a vacation you can always hire a skipper and/or a deckhand for your boat, who is then responsible for the safety of the vessel, crew, and passengers. This turns the heavy responsibilities over to someone who knows the waters and allows you to relax and enjoy your time aboard.

The Full Ride
For even more luxury you can always charter a fully crewed yacht which has its own skipper, deckhands, hostesses and cook. It's not quite a cruise liner, where your route and itnerary is planned for you. If you charter the boat, you decide where you're going and when, and have the freedom to enter smaller little fishing ports and hidden bays which cruise liners pass by. You'll have some privacy, with a captain and crew who are discreet and accomodations sybaritic by any standards!
For a yacht charter with staff, keep in mind that it's customary to tip the captain and crew at the end of your voyage. A 15% gratuity is standard, though for exceptional service you might consider as much as 20%, at your discretion.